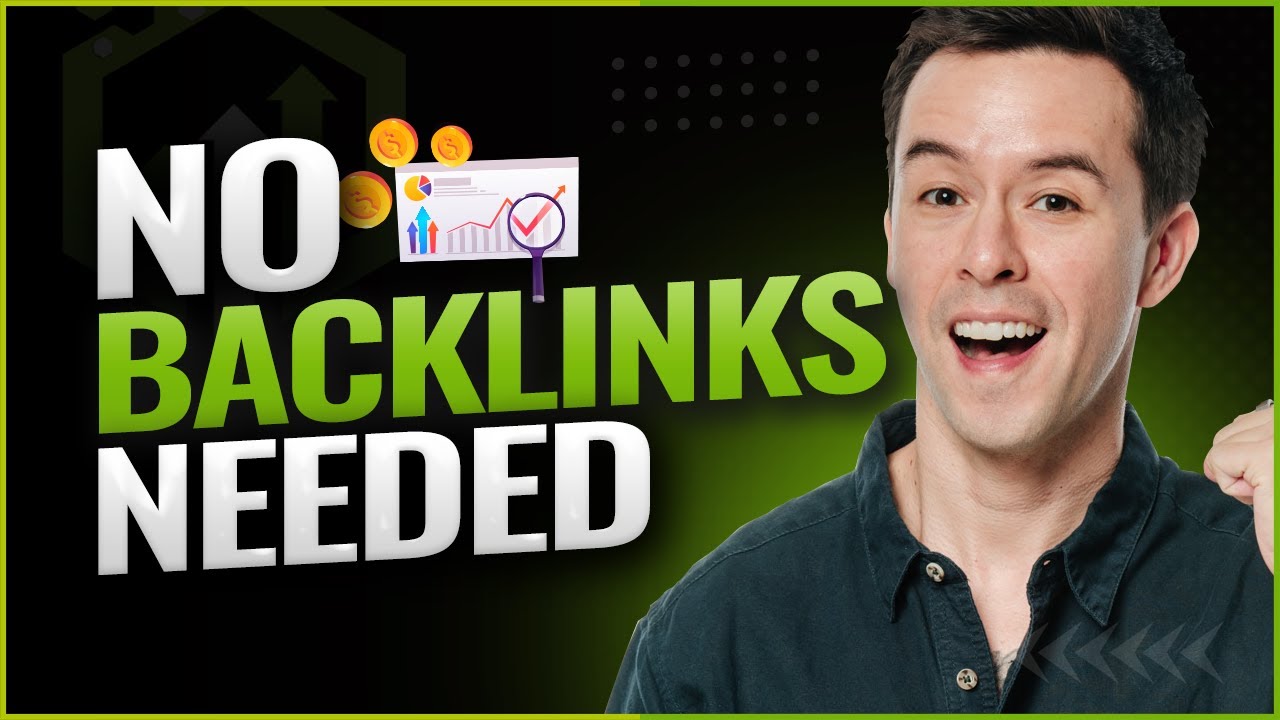 How to Get SEO Traffic WITHOUT Link Building
In this blog, I'm gonna show you how to get massive search engine traffic without having to build links. If you hate link building or you actually enjoy it and wanna get better results, then this blog is for you.
I will use a page as an example which isranking for an affiliate marketing keyword. This page makes a pretty penny. It quickly jumped up from nowhere to the top five of Google. The thing is, I didn't build a single link to this page. In fact, I've never built a single link to the entire domain that this page exists on. And I did it by using technique number two in this video which we'll get to soon.
If youcan save money on link building, then each of your websites becomes more profitable. Link building is a necessary evil in search engine optimization (SEO). You either love it or hate it, and some of you might be wondering what it actually is.
What is a back link?
A link, also back link, is when one web page refers to another website through a textual or image link. If you click it, you get taken to the linked website, and it turns out, links are a big part of Google's ranking algorithm. When Google founder, Larry Page, submit his patent on page rank, he was essentially saying, "Hey world, links are the best way to figure out if a website should be ranked higher or not." And he was right. Links are an amazing ranking factor. And the world agreed too, as Google became the defacto search engine.
Ahrefs ran a correlation study that showed that the more sites linked to you, the higher your chances of traffic from Google. So we know we need to build links to rank higher but why do so many people hate doing it.
1. When you're out reaching for links these days, 90% of the time you need to pay to get the link. Link building isn't a poor man's game.
2. Some people get freaked out because link building is against Google's terms of service. According to Google, you shouldn't be doing anything to build links to your site. You should just write content that's so damn good that links magically pour in, which happens about as often as you see a leprechaun in your daily life.
3. Because it's intimidating. If you don't already have the system set up, creating an outreach process is indeed freaking difficult, but getting Google rankings and traffic without links is a very challenging task.
I'm gonna let out five SEO tactics that I personally use to dominate Google, and none of them require building links. And if you're already link building and you try these tactics, it's really just gonna take your SEO to the next level.
Topical Authority
The first super effective SEO tactic that involves no link building at all, is to leverage topical authority in your SEO strategy. The concept of topical authority started to get super popular When Koray Tugberk began posting detailed case studies. With zero link building, he was getting crazy traffic boners like this one. And the tactic he was using was topical authority. I interviewed Koray, so make sure you watch it after reading this blog. And if you want an even deeper dive, Koray did an exclusive training on topical authority in my course, the Affiliate Lab.
In order for you to become a topical authority on your website, you need to cover each and every subtopic that is relevant to your niche, or at least better than your competition does. Another important factor is if you have topical coverage for longer than your competition does. Let's say you wanted to rank for something like best crypto exchange. You can't just write a single article on crypto exchanges and expect it to actually rank in the top 10. Even if your site has hundreds of thousands of links, it just won't work. Instead, you need to talk about every subtopic in the crypto space. How to set up a wallet. What is a blockchain? Bitcoin versus Ethereum. All of it. Once Google starts to recognize you as a topical authority then expect to take a trip to Bonerville like this site here. This strategy is so effective I often see it working on sites with the worst backlinks ever. And I even see it working on sites with terrible content. Hell, I've run an experiment myself where I'm launching a site with 100% AI-generated content. But because I'm covering the topical map perfectly and hitting all the required topics, you can see that I already have a ton of keywords on page two just a few weeks after launching.
Now, I'll be straight. Topical authority is an advanced process. The deep dive training is in the Affiliate Lab but I wanted to give you something actionable today. So here's how you can create a topical map. Go to answerthepublic.com and type in your topic. It's gonna spit back tons of essential questions that you need to answer in your content, such as our crypto gains taxable, and how to buy crypto.
Next, we're gonna use Google itself to tell you what it wants to see answered. Google your keyword and dig around in the people also ask section. These questions are great for both single articles and FAQ sections within existing articles. I'll show you how to decide which later. I highly recommend using a free tool, like SEO Minion, that's gonna automatically download hundreds of these questions to an Excel file in a single shot. Then you can go to the Google search bar and leverage the autocomplete feature to get even more ideas. Type a seed keyword question like, "What is crypto?" Then put your cursor at the end. All these topics here are great. Now head on down to the bottom of the search results and soak up these related searches at the bottom. I recommend spending some time clicking through to the other branches to go down a rabbit hole of new keywords.And lastly, spy on your competition to figure out all the subtopics that they covered in order to get them to the top of Google. You can do that by opening up their site map and doing a find for your main keyword.
The problem at this point is that you just generated a bazillion keywords and you need to figure out which ones belong together in the same article or perhaps separate articles. That's where a must have tool, like Keyword Cupid, comes into play. It's gonna organize and map all these keywords into proper articles. And now that you got your topical map sorted out, it's time to start producing content.
Parasite SEO
Next up on our list of SEO tactics that can get great results without link building, we have parasite SEO. Parasite SEO is when you place an article on another website that has a high amount of links and authority, and you piggyback off that authority to get your article to the top of Google.
Let me show you an example of what I'm talking about. Check out the search result for "best male enhancement pills".Classy, I know. In first place, we have an article from timesunion.com. Is Times Union a topical authority on penis pills? I highly doubt it, but it is indeed a DR 83 website with 84,000 referring domains linking to it. Then in second, we have Men's Journal. A DR 85 with 124,000 links. And jpost.com, a DR 86 with 170,000 domains linking to it. These articles are clearly ranking because of the link authority of the domains themselves.
Now here's the cool part. The Times Union article was written by Norcal Marketing. So someone just like yourself, paid them to post this up on their site. At the top of the Men's Journal article, they even label it as straight up sponsored content. And same thing for Jerusalem Post with promo content. These articles are ranking at the top of Google simply because of their backlinks. And people, just like me and you, can get articles placed there as well. As mentioned before, I've done it and it just straight up works. Look how fast this keyword shot up to page one. The article placements are expensive as hell but who cares if you get to number one for some of the best keywords in the game.
Now the process for getting articles up on these sites has a lot of moving parts and it's beyond the scope of this blog, but I promise I'll get to it eventually.
Next-level Keyword Research
The next zero backlink strategy involves what I like to call next level keyword research. I'm talking about creative ways to find keywords that don't require backlinks to rank for. Diamonds in the rough, if you will.
Here's one such keyword research trick taken directly from the Affiliate Lab. You're gonna need an SEO tool like Ahrefs to pull this off. They have a free 7-day trial. So go nuts. The first thing you're gonna do is load up facebook.com. Facebook has 31 million domains linking to them and we're gonna use this huge amount of data to our benefit. Click on the referring domains report. And up here at the top, you'll wanna type in a keyword related to your niche. So for example, you'll type in "keto" here, as in the keto diet. Now you have a list of all 7,000 domains that link to Facebook with the word "keto" in them. Export this sexy list out.
Now what you're looking for is domains with a low DR which means they have very few backlinks going to them. Like this site, thebestketorecipes.com. It's a DR 18 and gets 26,000 visitors per month. That means that they most likely did some amazing freaking keyword research. And we can easily copy what they did. Go back into Ahrefs and look at the organic keywords report for the site, and you end up with a list of super easy keywords to rank that require very few backlinks. Keto cinnamon rolls? Don't mind if I do. If this rinky-dink DR 18 website with barely any links can rank for keywords like this, then so can you.
Aged domains
Next up on our list is kind of cheating but it's a technique that many people, including myself, used to get quick and significant rankings. And that's by using powerful aged domains. So instead of going out and link building one link at a time, you're essentially inheriting an entire domain's backlink profile in a single shot. I'm gonna show you two ways you can use aged domains, but first things first, you need to know where to get them.
For the last three to four years, all of the aged domains I use for SEO have come from Odys. What I like about Odys' domain is that they're all vetted for quality and penalties. You're not gonna spending a bunch of money on a lemon of a domain, and they have a huge selection and a ton of different niches. If you wanted to launch a site in the crypto space, you just do a search up here at the top, and as expected they have a bunch of crypto relevant domains with plenty of links. But most importantly, Odys' domains don't have a drop history. They keep these sites hosted with a minimal amount of content which makes it seem like the site has been up and this whole time. So its link equity should not be reset.
Now the primary use case for aged domains is to simply build a website on them, straight up. Remember that case study that I told you about earlier where I'm building a site with 100% AI content. I'm building it on an aged domain that I got from Odys.
Here's some best practices when building a website on an aged domain. Get an aged domain whose old content is as close as possible to what you wanna write about. Google Search Liaison, John Mueller, mentioned in a Hangout that when the old content is off topic from the new content, they might reset the links. You can check the historical content of a site by tossing it into archive.org.
Next, if you find that some of the internal pages on the domain have a high amount of links going to them, recreate that page. Add similar content to what used to exist in the archive then link from there to pages you actually wanna rank for. We're salvaging the existing links that go to your aged domain. Once your domain is set up, start writing articles for your easiest keywords first. Such as keywords you found through that Facebook trick I showed you earlier. This will let you know very soon if Google is liking what you've done.
Lastly, it takes a while for Google to recognize that there's a new direction that your domain is moving in. You'll know the time is right to double down when those easy keywords go from page 10 to page one. The second major use case for aged domains is to do a 301 redirect using the acquisition method. What you're doing here is you use a 301 redirect to tell Google, "Yo, this aged domain with all these lovely backlinks doesn't exist anymore. My other main site acquired this one, so send all those juicy links there." I used this technique twice on this site here. Once in June and once in December. You can see how the referring domain counts skyrockets because I've basically just imported two whole websites backlinks to mine with this strategy. Now just like with parasite SEO, the acquisition method deserves a whole blog on itself.
Create Link Bait Articles
Next up, if you wanna get SEO results without link building, create link bait articles. Certain article types are extremely good at just straight up attracting natural links. And if you think about it, this is exactly how Google wants links to be built. You just write the perfect piece of content and the links magically come in. The thing is, certain articles are actually good at doing this.
Let's show you how to make some magic. Check out this article I wrote on anchor text optimization. It's over 4,000 words on anchor text of all topics. How much do you think you can really write about anchor text? Anyhow, it took a ton of time for me, but did it pay off? Well, it ranks number one for anchor text optimization. So there's that. But even better, it naturally attracted 261 referring domains. That's 261 different websites linking to it. This article is what's called a definitive guide. You create one when you go balls to the wall and write the best most thorough piece of content on a topic that becomes the freaking reference manual for the subject. And as you can see, they're excellent at attracting links.
Here's another type of link bait article. A statistics piece. Ahrefs pulled together a bunch of data on the SEO industry. Statistic pieces do super well as link bait because facts and data often get referenced by other authors when they're writing, and it's customary to mention where you got your facts from. How did this Ahrefs piece go? 1,480 referring domains. Tasty indeed!
Now the thing about statistics pieces is that you need to be ranked pretty high on Google for something like SEOs statistics in order to be able to even find your article in the first place. What if your website is just too new to rank for statistics keywords? You can just pay for ads to get to the top of Google. And the great thing is it's super cheap because no one else is competing with you on them. I've done this before in the health niche and it ended up costing us about $30 per link. I mean, you're not technically link building. You're just setting up a gangster level trap for them.
Now remember, once these articles have attracted a bunch of links, there's thing you need to do next – interlink these articles to the content that you really want to rank on your site. Doing this will pass along that lovely link juice.
This is a transcripted YouTube video, courtesy of Matt Diggity