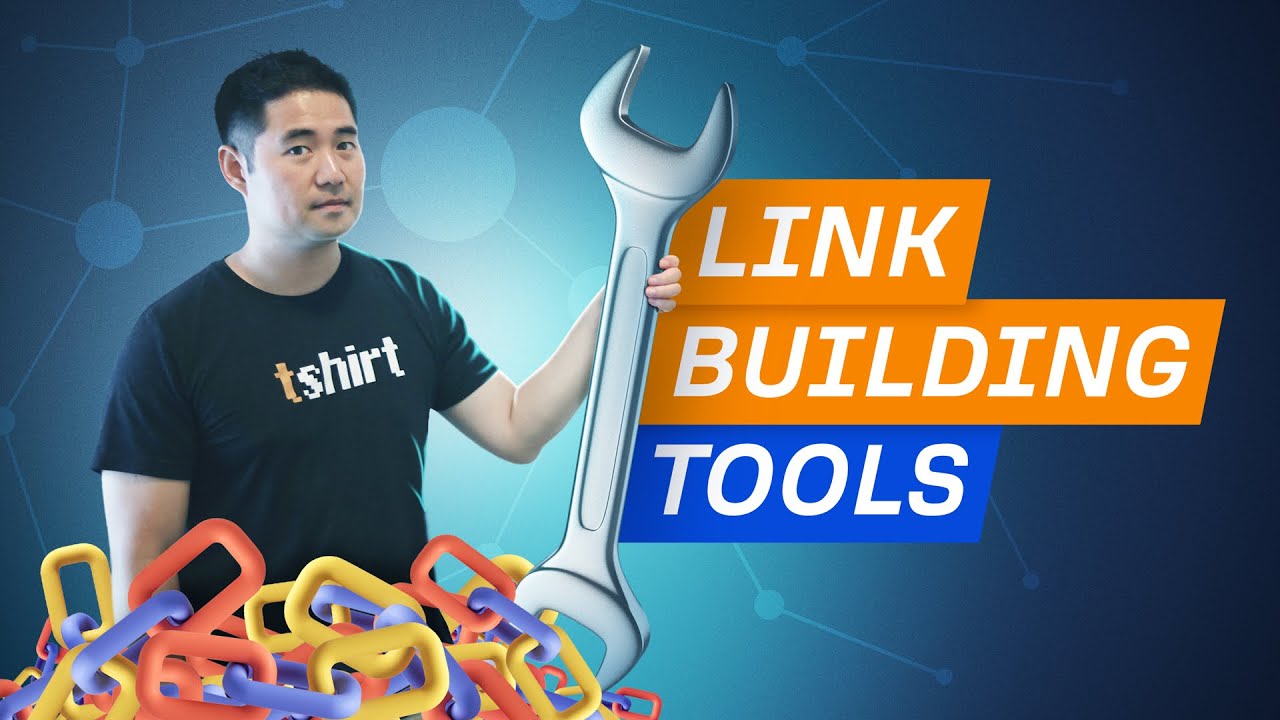 The Only Link Building Tools you Need (Free and Paid)
Over the last decade, I've tried dozens of link building tools. Some that weren't very good, some that used to be great, and many that continue to be essential. Now, you don't need dozens of link building tools to build backlinks to your site. In fact, you only need a handful of tools to reach maximum efficiency and effectiveness. So if you don't want to waste your time or money testing a million and one tools, then keep reading because in this tutorial, I'll show you the 5 best link building tools, my favorite features in each, and how they fit into the link building process. So read it to the end.
Before we get into the tools, it's important that we briefly discuss the 3 stages of link building because these are the three areas where tools are going to help streamline your processes and make your link building efforts more effective and efficient. And these stages are:
Prospecting
Vetting
Email outreach.
So prospecting is the process of finding people who may be interested in linking to you. And this can be for a variety of reasons. Like they've linked to a competing page, they've talked about a relevant topic that you've created content on or whatever.
Vetting is the process of evaluating whether prospects are actually people you'd want to get a link from. And beyond manually reviewing pages, you can use various criteria like the quality of the content, SEO metrics like website authority and organic traffic, and content relevance to name a few.
And email outreach is the method link builders use to contact prospects to ask for a link. So as we go through the tools, I'll explain where each tool helps and give you a preview into how it helps.
Google Search
So let's kick things off with the first tool and that's Google search. Google is one of my favorite prospecting tools because you get to search through the world's largest index of web pages. But because the index is so large, you'll need to use my favorite feature, which are search operators. And these will help you narrow in on specific subsets of pages.
For example, if you wanted to build links from resource pages, you can search for something like inurl:resources.html and then a topic related to your niche. Then you can visit the pages and see if there's a potential link opportunity for you.
You can go way beyond well-known tactics like resource page link building by identifying footprints. And a footprint is simply a commonality among multiple web pages. For example, I know that MuckRack has a ton of indexed pages like these, where they show major publications that journalists and authors have written for. And the footprint is in the URL structure. As you can see, all URLs have muckrack.com/the author's name/articles. And the only dynamic variable here is the author's name.
So, assuming we wanted to find journalists for a digital PR campaign, we can start by searching for site:muckrack.com, which will narrow results down to just pages from MuckRack. Then I'll add inurl:articles, meaning, all results must have articles in the URL, and then I'll add a topic related to our niche which will search anywhere in the HTML code. From here, you can build your list of prospects and pitch your story to people who might cover it.
Ahrefs
The next tool is Ahrefs. Now, while Ahrefs is an all-in-one SEO toolset where you can run a competitor analysis, do keyword research, track keyword rankings and perform site audits, I want to focus on just one thing that helps in the link prospecting and vetting stages. And that's backlink analysis, specifically to your competitors' pages. To see the backlinks to a page, just paste it into Site Explorer and run the search. Then go to the backlinks report. And right away, you'll see all of the backlinks that point to your target along with SEO metrics for the linking pages.
If you don't have an Ahrefs account, you can use their free backlink checking tool to see the top 100 backlinks to a target.
Backlink checking is just a way to find link prospects. You have to manually filter through these to find prospects worth contacting because people aren't going to magically link to you because you have a page on a similar topic.
Your chances of scoring a link increases if you actually have a good reason for contact which brings us to how Ahrefs Site Explorer can help with vetting prospects without having to actually visit the pages. If we head over to the anchors report, you'll see all anchor texts used on backlinks that point to this page. And we have some generic ones related to the topic, which likely came as a result of brand equity and a consistent high-ranking position. But then you'll see this one on the 50/30/20 budget rule.
So let's click that which will take us back to the backlinks report with the anchor set as a filter. And as you can see, they've gotten hundreds of links because of that one concept. But it's actually a pretty outdated budgeting rule and I personally think that I have a better way to budget. So if I were to create a competing page on how to budget, I'd include my method and reach out to all of these people who are linking to NerdWallet because of their budgeting rule.
We actually have a step-by-step case study on how we used this method to create content and build links to it, so if you want to learn how to execute on this, then here is the tutorial.
Bonus SEO tool: Image Prospecter
Image Prospector is a new SEO app designed for building links with reverse image search. The way it works is pretty simple.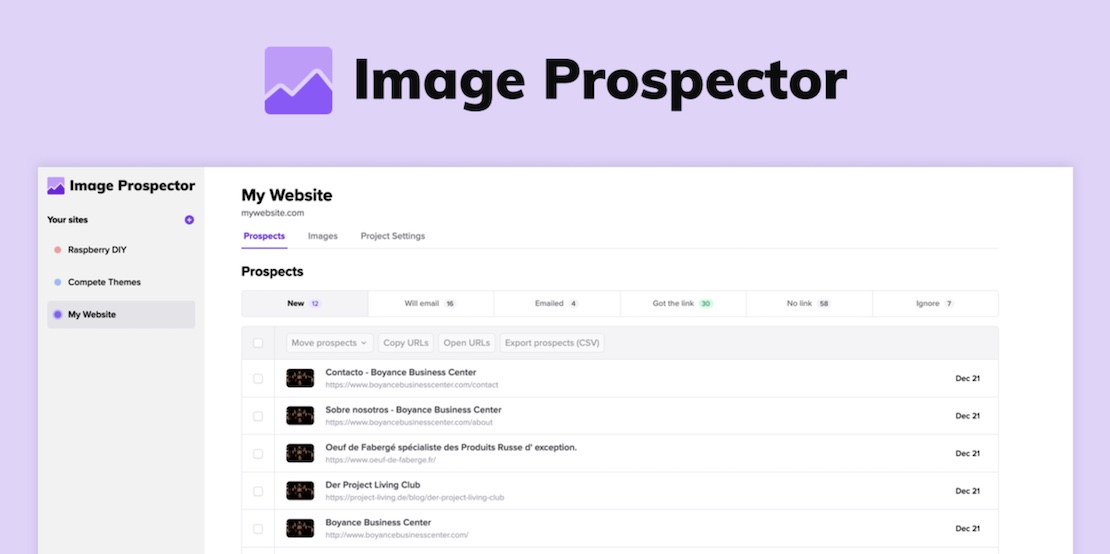 Using this tool, you'll upload any original images you've published on your website and get back a list of all the pages where they appear online (besides your own website). This is essentially a list of outreach prospects.
After reviewing the sites for quality and sorting them in the Prospects table, you can use one of the pre-written outreach scripts to contact each site and request they add proper attribution. If they've used your image, they should be linking to the original source. This tactic converts very well because the prospects have already used your work and gotten value from you.
Image Prospector is powered by Google's Image Search API, so the results are exactly the same, but you can bulk search your images and save the results. There are also automatic monthly re-scans of your images, so you can continuously get new outreach prospects every month.
Hunter.io
The next link building tool is Hunter.io. Hunter is an email finding tool that'll help you find email addresses for your prospects. And with a free plan, you can run 25 searches per month.
This tool falls somewhere in between the vetting and outreach stages. But nevertheless, finding emails for your prospects is critical. So to find a person's email address go to the finder tool and enter the first and last name of your prospect, as well as their domain name. Run the search and you might just see a handsome fella.
I have two favorite features in Hunter. The first is their API which helps to scale email finding like crazy. And my second favorite feature is their Author Finder. Just paste in the URL where your prospect is the author of the page, and they'll search for the author's name as well as an email address.
As you can see, this isn't the right email address. And that brings us nicely to the next tool which is Neverbounce.
Neverbounce
Neverbounce is an email cleaning and verification tool. And its main purpose is to tell you whether email addresses are deliverable or not. Now, the reason why I recommend using it is because by sending tons of emails to undeliverable addresses, you're going to negatively impact your present and future deliverability. And if your emails aren't reaching prospects, then good luck getting links.
The tool is free to try and then you'll have to choose a pay as you go option if you want to continue using it. And it's really simple to use. Just paste in your list of email addresses and Neverbounce will tell you whether the email is valid, invalid, catchall, or unknown.
Just like Hunter, my favorite feature in Neverbounce is the API. You just write up some code, and you can verify your emails at scale. And if you don't have a developer to work with, you can use Zapier to find and verify emails in Google Sheets. We have a full video on Automating Link Building with Zapier.
Pitchbox
The next tool is Pitchbox. Pitchbox positions themselves as an influencer outreach and content marketing platform. And that's probably because they have a ton of features inside their tools. But personally, I've only used their tool for link prospecting and email outreach.
My favorite part of Pitchbox isn't so much in the features. It's the fact that they've structured their email outreach module as a workflow. And this works particularly well when you're working with larger teams. And they've streamlined the outreach process in 3 steps:
Inspect
Personalize
Compose
The "Inspect" stage is where you'll do your initial vetting. And you get Ahrefs' SEO metrics right beside the pages to help with that. Now, in the "Personalize" stage, this is where you can look at your prospect's pages and add any personalization fields for your actual email. And writing the email is done in the "Compose" stage. This is where you can write and send personalized emails to your prospects.
Pitchbox doesn't have a free option available. So, if you don't have the budget, then you can use Hunter, which also has an outreach tool. Or if you're the type to work with spreadsheets, then any other tool like Mailshake or Buzzstream will do the trick. Alternatively, if you don't plan to scale your link building, then using a free Gmail account with Canned Responses will do the trick.
Screaming Frog SEO Spider
The next tool is Screaming Frog SEO Spider. Now, this tool is a web crawler that's mostly used for on-page and technical SEO audits. But I personally like using it more for link building.
They have a free plan which lets you crawl up to 500 URLs, but the paid plan is where my favorite features are. And that's custom source code search and custom extraction. So let's talk about using Screaming Frog for an unlinked mentions campaign.
If you're unfamiliar with this link building strategy, it's when you find pages that have mentioned your brand name or products but didn't link back to your website. And it works really well because the authors are already familiar with your brand, they probably like you, but they just didn't link to you.
So, to build my list of prospects, I'll search in Content Explorer for our brand name but not from pages on our own site. I'll also set a Domain Rating filter and a website traffic filter to narrow down our list for the sake of prioritization. Then, I'll choose the "One page per domain" filter since I don't need to reach out to the same website multiple times. Finally, I'll export the results.
So we have a list of pages that mention our brand, but at this point, we don't know if they're linking to our site from the page. So I'll open up Screaming Frog, hit Configuration, and then choose Custom search. Next, I'll hit the Add button. Now, for the Condition, I'll set it to "Does not contain" and I'll also choose regular expressions as the search type. Finally, I'll paste in some regex code. So what this is going to do is search through the source code of URLs and tell us if they link to any page on our website or not. Let's hit OK. I'm going to paste the list of URLs that we exported from Screaming Frog and run the crawl. When the crawl has completed, you can head over to the custom search tab, and then filter for your custom search. And now we have a list of hundreds of pages that have mentioned our brand but didn't link to us on their page.
Round up link building tools
These tools all work great for various tasks. But they work even better when you integrate them into your link building systems. Now, if you don't have a link building system yet, then I highly recommend watching our tutorial on creating a scalable system before you mindlessly go off and buy a bunch of tools.
These are just some of my favorite link building tools and in my opinion, the only ones you need. Let me know what your go-to link building tools are. And if you enjoyed this blog, then make sure to share for more actionable SEO and marketing tutorials.
This is a transcripted YouTube video, courtesy of Ahrefs