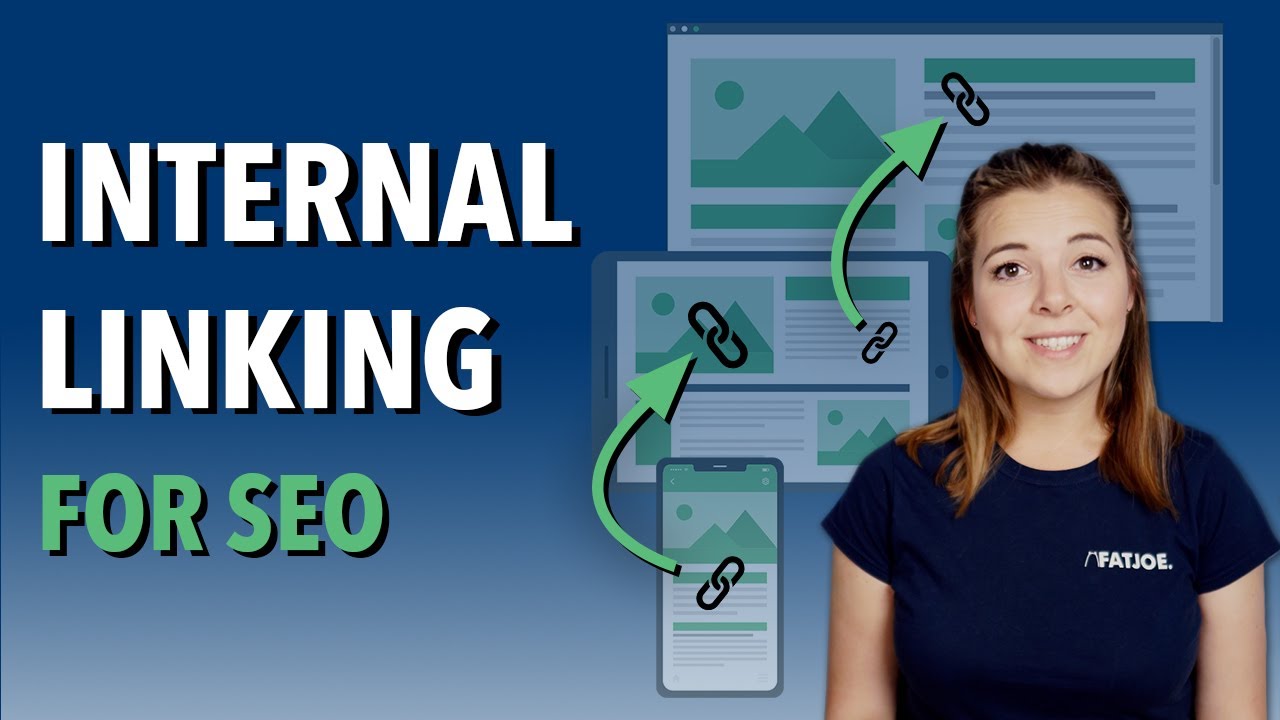 How To Use Internal Linking To Massively Boost Your SEO
Internal linking is one of the best on-page strategies you can implement to boost your SEO. All of the best SEOs are using internal linking to great benefit to boost their ranking. The great tragedy is that many website owners out there don't know it.
In this article, I'll take a closer look at one of the most effective SEO tactics in the business, why search engines value internal linking so much, and how to make sure you do it right.
What is an internal link?
An internal link is a backlink that navigates away from the page that the user is currently on to another page in the same domain. You'll see that websites you visit use them all the time to navigate users away to related content that they might find useful. Here you can see that we've added a link to our keyword research guide from this guide to writing optimized product descriptions, because it's additional information that the reader may find useful.
Internal links are useful for users by helping them to easily navigate to other parts of your website that might be useful and to keep them moving through your website. And if something improves the user experience, you can bet search engines will notice.
Why are internal links important for SEO?
Not only can internal linking help to propel you up the search results, but it can help you to do it quickly. Strategically placing relevant internal links throughout your website encourages users to spend more time on your site. Not only that but when your most valued pages have a high volume of relevant internal links, it sends a clear signal to search engine crawlers of that page's relative importance. They're also crucial in helping search engines discover new content. Whenever you add a new page to your website, you're likely to link to it somewhere internally, whether that's on your homepage, navigation bar or somewhere else.
When new internal links are added, it's a signal to search engines to crawl for new content related to pages that they've already indexed. The better search engines understand your content, its importance and its relevance to your users the better able they are to rank it.
Internal linking best practices
Like all things in SEO, internal linking needs to be implemented strategically. Get it right and you could not only climb rapidly in the rankings but you could increase your traffic by up to 40%. Let's take a look at some of our best practice tips to get the most out of your internal linking strategy.
1. Implement a crawlable link structure
Having a structure for your internal linking that is relevant to the structure of your website is important. Search engine crawlers are clever, but like any automated scripts, they need to be supported. For example, they can go from A to B to C easily enough. But don't expect them to find their way from A to D to F to C and back to A again. As such your internal linking structure needs to allow search crawlers to move back and forth in an intentional manner.
So with this in mind, there are a number of approaches to your internal linking structure. You could think of your website as a pyramid with your homepage at the highest point. Internal links then cascade downwards and outwards to various categories and subcategories. This will help crawlers and users alike to get easy access to the content that they need. It's also a great structure to use if your website is simple with limited categories and pages.
But, is this relevant to your business? For a larger, more complex website, you may find that it's more beneficial to group relevant pages together. Grouping topics together through siloing not only makes it easier for users to navigate around your website, but for crawlers to understand your content, passing authority throughout your pages.
Alternatively, if you have lots and lots of content, you could create a happy link web where pages link to other relevant pages. This type of internal link structure is more beneficial for your users because you're making sure that you're linking out to every relevant piece of content that could be useful for them.
Bear in mind that this can get messy so approach this link building structure with caution.
2. How to choose what page to Link to?
It stands to reason that you want to funnel your traffic towards your highest converting pages. These are the ones that make you the most money and generate the most leads. These could be opt-in forms or pages with affiliate links if you're a blogger or even product pages if you're an ecommerce website.
In any case, you'll want more of these internal links than a simple link from one blog post to another with a tenuous connection. You'll want to place them in your navigation bar, side bar or other prominent place on your website. By making them easier for users to find, you'll also be telling search engines that these are the pages that generate the most interest and they'll be able to rank them accordingly.
3. Use relevant anchor text
Many aren't aware of the importance of anchor text. The anchor text is the text that you attach your hyperlink to. The exact anchor text you use here is incredibly important for ranking. The more relevant your anchor text to the page it represents, the more likely your users are to navigate to it and engage with it rather than just bouncing straight back. Search engine crawlers also understand anchor text, and use it to understand what the page is about. Using good anchor text means you're more likely to rank in the search results for the matching search term and other variations of it.
4. Avoid using the same anchor text
Don't use the same anchor text for different pages. If you have two pages, say how I have "blog" and "FAQ" on my website, I'd be confusing Google if we used the anchor text "articles" for both pages. I'd really want to use "blog" and "FAQ". I'd do this to make sure that we're giving both Google and our users as much context as possible around the content of the linked page. This will make sure that the pages are being ranked for the most relevant search terms based on the search intent.
5. Link new pages from existing pages
As I've already discussed, linking keywords to other relevant pages on your website is really beneficial. Every time you add a new page to your website, it can take a bit of time for Google to acknowledge or index that page.
Creating internal links as soon as that new page is published will help Google to index pages faster and they'll show up in the search results faster. So whenever you post a new page, it's good practice to use Google to find instances where relevant keywords already exist across your website. You can then use these as anchor texts for new internal links. A quick site: search in Google will pull up any instances where this keyword is used across that domain. Type site:yourwebsite and add the keywords. Press search and you'll find pages that could link to your new content. Edit this page and add your internal link. Repeat this process every time you publish a new page and your website will be a powerhouse of internal links and indexed pages.
6. Link to & from the most important pages
Link strategically by finding the pages with the most authority. You can do this by using keyword research tools. In Ahrefs, you can find the pages with the most backlinks and authority by using the Site Explorer to view the "Best Pages By Links". You can also use Moz's free Link Explorer tool which will tell you the top pages by Page Authority. Finding the most authoritative pages on your website and linking to the least authoritative pages on your website is a great way to give new content a boost and pass on authority. This also applies to pages that don't yet have any external backlinks.
7. Remove links to unimportant pages
Removing multiple links to unimportant pages can help SEO, because you're wasting valuable link equity if these links aren't needed for navigational purposes. You want to make it super clear to Google which pages are the most important, so it knows which ones it needs to rank.
You can find these pages by navigating to Internal Pages on Ahrefs and clicking the Success Report. Sort the list by the number of inlinks from high to low. Scan through the list, looking for those pages that you know aren't as important as others. This could be outdated content that can't be updated or non-indexable pages. Remove the internal links pointing to that page or replace them with more useful pages. You could even delete the page altogether once you've removed the internal links.
Remember that the aim is to provide your users and Google with the most relevant content through your internal linking structure.
8. Don't use too many internal links
This leads us on nicely to why having too many internal links on one page is a no-go for SEO. This is because in an SEO sense, with our internal linking strategy, we're kind of flowing authority from one page to another and we need to be mindful of not spreading that too thinly. Not only that, but by not being intentional with your link choices and bombarding your users with too many internal links, you're causing a distraction and adding confusion to their experience on your website. And given Google's Page Experience update, this could have terrible consequences on your rankings. You also don't want it to seem like you're creating pages just for the sake of adding internal links.
9. Fix broken internal links
Broken internal links are those that link to pages that either no longer exist or return an error. Having broken links on your website, not only creates a bad user experience, but also creates a dead end for search engine crawlers. Both of these scenarios are less than ideal.
You can find out which links are broken for free by using Google Analytics. Let me show you how. Head to the Behaviour report, Site content, and select the tab Page Title above the result table. Next, enter the page title of your 404 error page (e.g. "Page not found|). This will then show you a list of all the 404 errors your users have come across on your website. Alternatively, for a more detailed view, we use SEMrush's Site Audit to check out all the individual errors and where they're linked so that we can fix these.
10. How to make finding and adding internal links on your website easy
Embrace the power of plugins. While you can manually add internal links to your website, it can be time consuming and frustrating at times. Fortunately, if your website is one of the 1.3 billion WordPress sites on the internet today, you could use a plugin like LinkWhisper. This plugin makes it quicker and easier for you to insert internal links based on keywords.
The plugin suggests (or whispers) contextual link opportunities and makes it quick and easy to implement them. It'll highlight a variety of relevant phrases to keep your internal linking as natural as possible, but you'll still want to manually check the context of all the keywords just to make sure it makes sense.
All the best SEO's are using internal linking to great benefit to boost their ranking in the search results. So if you can master internal linking yourself, you'll see that your web pages see a speedy and definitive improvement in rankings. Take a look at the detailed guide to internal linking on the Fatjoe website.
This is a transcripted YouTube video, courtesy of FatJoe